Next classes will begin in the spring - April 2012 - depending on how soon the weather warms enough to turn the water back on after the winter disconnect.
We are now accepting registrations for these classes.
To register for classes e-mail s.on@ns.sympatico.ca
At the recent show held in Trenton, Pictou county, Mike MacDonald finished the championship on his female going Best of Breed against 19 other German Shepherds (quite an accomplishment)and taking a Group 2nd- she is now Ch. Nikki von Micurs pictured below with Mike, Judge Chan Wong Woh and handler Darren MacKinnon
Mike's Kennels - Micurs German Shepherds can be found at http://www.micursgermanshepherds.com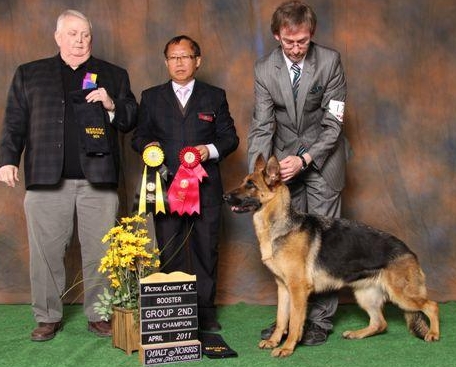 At the same show - Blair McCormick competed in Obedience wirth his Rottweiler Missy and took High in class at both trials and High in Trial on Sunday - Missy now has her CD title and will start training for the next level which is CDX - (Companion Dog Excellent) Watch for her at the BayPlex in August - 2011`
Members continue to show their dogs in trials both at home and throughout the Maritimes. In November of 2009, Ch Kandansk Talk To The Hand CGC, CD earned her RA title in Moncton and Mike showed a Shepherd Pup in Conformation with some success in Halifax in Feb 2010. In July Sharon showed her red poodle, Pan, in Obedience trials held in Kensington, PEI and was successful in both trials in the Open B class.
We competed again in Obedience and Rally Trials at the BayPlex in August . Sharon was successful in finishing a CDX title on her red poodle, Pan, as well as achieving Pan's Rally Excellent title. Bill Bramwell finished his Shepherd's Rally Advanced title and Blair McCormick got two legs on Missy's CD title Some of our students received titles at the show as well. Lorraine Mosher competed with her Papillon and was successful in achieving her CD title and her Rally Advanced Title. CONGRATULATIONS LORRAINE!!
Novice ,Advanced, and Excellent Rally Obedience Classes are held from time to time. Dogs must be registered with the CKC to take these classes.